Kingswood is awesome! He has everything we look for in a bull: low birthweight, bumper EMA and superb growth combine to give him a fantastic supermarket index. He also has heaps of softness and great feet and legs. Kingwood's dam Josie H11 is the best cow that we have bred. Her performance and structure are second to none in the herd and she is ranked No 3 on the female list for supermarket index within the breed.
Additional information: most recent Breedplan data (September 2015 update), two YouTube videos from March and September.
SOLD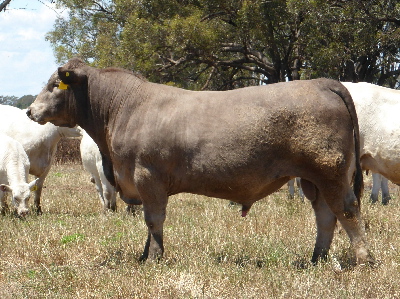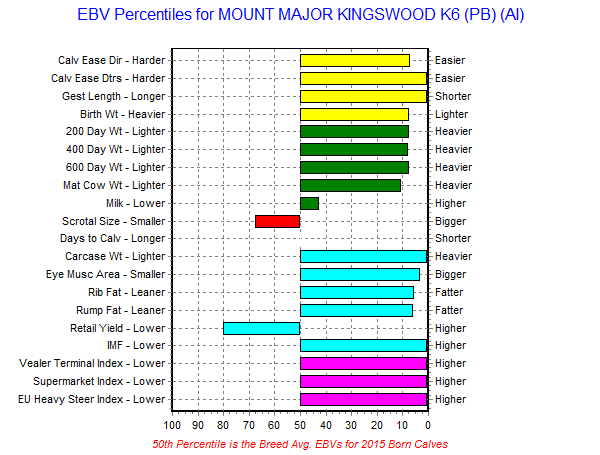 This graph is based on October 2015 update.
| Actual | Days | Weight |
| --- | --- | --- |
| Birth | | 36 |
| 200d | 236 | 353 |
| 400d | 400 | 534 |
| 600d | | |
| Mature | | |
Pedigree

MOUNT MAJOR KINGSWOOD K6 (PB)(AI)

Dam: MOUNT MAJOR JOSIE H11 (PB)

Sire: CADFOR DESTINY (PB)


WILLALOOKA ARTHUR A598 (PB)

DAJORY
JOSIE (PB)(AI)
DAJORY
UPLIFT A12 (PB)(AI)(ET)
DAJORY OPAL DESIGN (GR1)(AI) (ET)
LINDSAY STARBRIGHT Y47 (PB)
WILLALOOKA V884 (PB)
WILLALOOKA UNCLE BEN U174 (PB)
WILLALOOKA V813 (PB)
WILLALOOKA UNITY U99 (PB)