Bulls for sale
Our young sires are scanned and assessed before being made available for sale - they are sold ready to work and guaranteed.
We recommend that you register your interest early for our 2019 bulls as, in recent years, we have sold out quickly in Spring.
Noddy N1, grey SOLD
Nitro N10, grey SOLD
Nero N11, silver SOLD
Neill N12, grey SOLD
Navara N13, silver SOLD
Nefario N14, grey SOLD
Nacho N15, silver
Nairn N22, grey SOLD
Norbert N23, silver SOLD
Nick N24, grey
Newtopia N25, grey SOLD
Neon N28, silver SOLD
Nice Guy N29, silver SOLD
Nobby N30, grey SOLD
Night Hawk N31, black SOLD
Nardole N32, silver SOLD
Nebula N34, grey SOLD
Noah N39, silver SOLD
Nalinga N42, black SOLD
Nexus N44, silver SOLD
Scroll down to the very bottom of the page for the first data for our upcoming 2019 bull team, including 200 day weights. NOTE - despite the dry season, there are 4 calves with growth rates of 1.5 kg/d or more!
The two bulls we have kept for the National Show & Sale are pictured here:
The table below has been updated with 400d weights and growth rates and scan data is available on request. SM Indices are based on the August 2018 update. When looking at the birthweights, keep in mind that we correctively mate. For example, Kingswood, who is a reliable low birthweight bull has been deliberately mated to larger birth weight cows to bring down the birth weight of their offspring.
Please call Davo (mob. 0459 999 662) if you would like any more information about any of these young bulls or will be needing a bull in Spring 2019. Inspections welcome.
* SM Index taken from August 2018 update; 400d growth rate = average daily weight gain since birth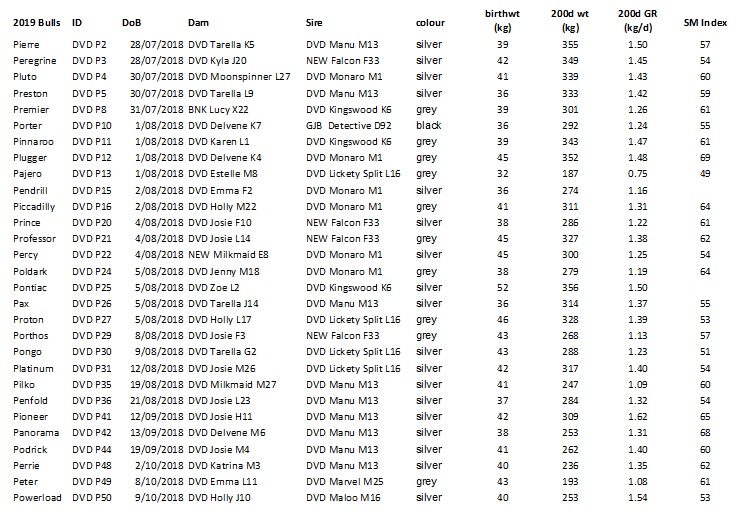 * SM Index taken from February 2019 update; 200d growth rate = average daily weight gain since birth