20/05/2020
Rock on!
This time of year we turn our thoughts to maintenance work on tracks, troughs and gateways. Weather predictions are all pointing towards a potentially wetter winter and spring. I remember wet winters when cows were standing up to their bellies in mud for weeks, when it was hard to find an area to feed them that wouldn't waste tonnes of feed, and it was pretty much too wet for them or for tractors to be on the paddocks. I don't want to go through that again - or at least I want to be able to manage it as well as possible. So, I have laid down some rock to make an area right next to the hayshed that will give me somewhere to put feed that will allow the cows to be standing out of the mud.
---
27/04/2020
We spent a damp Sunday morning planting trees to try and set up some shade for our two paddocks that need it. We have boxed off some sections of the fence line and have had a couple of attempts at getting trees going in here in the past but the dry seasons have been against us. This time we have sprayed out the weeds, used tree guards and mulched - we just need to remember to give these lttle trees some attention in summer but at least with the tree guards they will be easier to check on: in the past the little trees have been lost amongst the lucerne plants which were no doubt also competing for moisture. We have chosen Grey Box for the paddock with the heaavier dirt and Yellow Box for the other, both locally sourced. Yellow Box is Davo's favourite.
---
20/01/2020
Well, we are 4 weeks into "Work from Home" and social distancing and somehow we haven't found time to update the news page. So what have we been up to, you might ask?
Bagging oats and gettng fertiliser ordered ready for sowing tomorrow. We've had some really good rainfall and have got some good soil moisture.
Rains in late March were enough to strike some pasture, the lucerne responded in spades as the conditions were still warm. Follow up rain in April has feed jumping out of the ground (at last!). Normally at this time of year our paddocks are dry - the break is normally around ANZAC day so we are about 10 weeks ahead of the feed curve. With some early green feed and the continuing warm conditions, we should be set up for winter quite nicely.
Repainting the grille on Sarah's old red tractor (an International 434) which is getting a bit of a spruce up: it's had a new ignition and solenoid on the starter motor. We mainly use it for slashing but it runs like a clock and is very handy to have around. I'm going to paint a little bit at a time - I'm not finished yet, but it's starting to look a bit flash.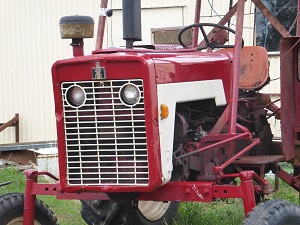 With no football at the weekends there is a bit more time at the weekends so we've been getting ready for winter and getting a bit of wood in the shed. This year the old bloke on the chainsaw couldn't keep up with the young bloke on the log splitter. It must be nearly time to swap!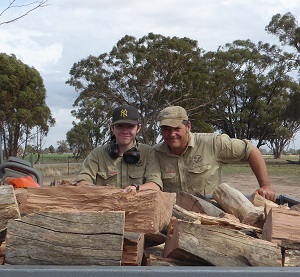 ---
8/02/2020
Mount Major Pongo was delivered to repeat clients, Andrew and Katrina Holland, today. He is happy to be out strutting his stuff with the ladies.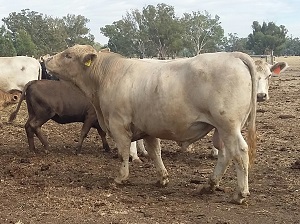 Drought feeding
The cattle are tracking well through the long hot summer. Even though it's a tough season, the colours of the sunsets are beautiful.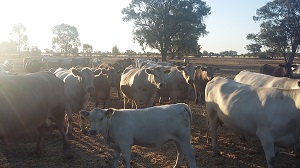 ---
4/01/2020
Welcome to a New Decade - 2020!
Christmas holidays are a good time to get on top of some jobs. Davo has been teaching Maisie how to drive the tractor and has re-painted our cattle trailer. His dad bought the trailer in 1982. We keep it mechanically in A1 condition and it has been repainted probably every decade but it's starting to show its age. With it being low and wide, it is so good for delivering bulls. If there is no ramp, we can step animals out of the trailer and into the paddock which is just so handy.
---