---
29/11/15
We have finished the year with the top bull and the top heifer for supermarket index for the 2015 drop of calves. Mount Major Josie L36 is sired by Jackpot and it is very pleasing to top the ranking with a calf by a bull of our own breeding. Lickety Split L16 is sired by Banksia Ridge Harry and is shaping up to be a really good calf. It will be good to see how he goes at scanning and assessment next year as our goal is to breed better beef and that means a focus on type and performance as well as EBV.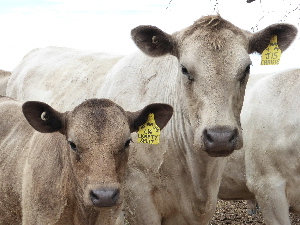 ---
15/11/15
Now that calving is all finished and birthweight data has been submitted to Breedplan, we thought it would be interesting to review our up and coming bulls for next year. If you like calf photos and EBV charts, then this YouTube slideshow is for you is for you . . . 2015 bull calves.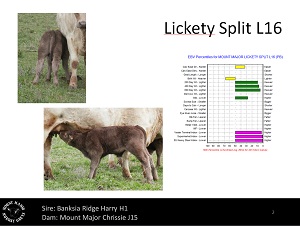 ---
09/11/2015
It's rained!!! We have had 60mm of rain since last weekend and more promised for this week - it's like the spring we never had! Ryegrass and clover have re-shot and the lucerne is growing like mad: it looks like we will have a month's worth of feed in front of us.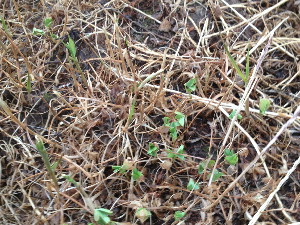 It's still good to have the hay on hand because we'll be needing it soon enough.
The bulls have gone in for joining and are enjoying their work. Mount Major Jackpot pictured, below with Mount Major Jenny H15 inbetween his busy service schedule, has been busy flexing his muscles and showing off to the ladies.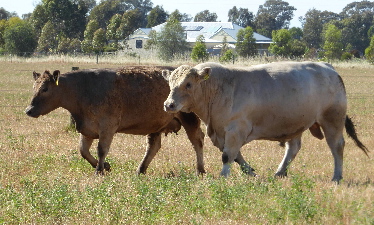 ---
27/10/2015
Well! It's all been happening in the last month: the last cow calved, joining has started and, with the looming El Nino we have stocked up on hay.
Dry seasonal conditions

We have had about 2.5 mm of rain in the last 8 weeks which is pretty poor for
spring! Fortunately we have been able to buy enough good quality hay to get
us through 'til next winter. We've got a lot of dryland lucerne which should give
us good quality feed if we do get any rain. There are many more truckloads
like this lot arriving over the next few days.

Joining

We have kept Jackpot and will certainly be using him for a few years to come
as his calves this year have been so good. We will also be using a selection
of our young bulls: Kingswood, Khan and Kev, and Davo is particularly looking
forwards to some little Kingswoods next year with the added length and
softness that he's got.

Calving report

We have had 37 calves: 20 heifers and 13 bulls. 86% of the herd calved within 6 weeks
of the start of calving - we are continuing to try and tighten up the calving pattern.
However, we are very pleased with the average birthweight of 37.6 kg and we only had
to pull one calf. We are particularly excited by our Jackpot and Harry calves and the
Jeffery calves look really good as well.
---
03/09/2015
Scanning
We have had our annual visit from Liam Cardile to scan and assess our bulls and heifers. It's fascinating to know what is going on under the skin, and great to get Liam's expert opinion on conformation. Some great results that will enable us to cull the bottom end (and take advantage of current strong prices) and offer a terrific team of young bulls for sale. The standout was Kingswood, as expected, but Big Kev surprised us. Amongst the heifers, Milkmaid K8 (our little Milk Baby) is a cracker, along with Katrina K2 and Delvene K4.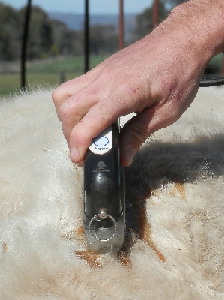 ---
July 2015
Calving starts in earnest
Calving for the rest of the herd started on 25th July. with a nice run of AI calves. Davo has invented a cunning device to save his back when weighing calves.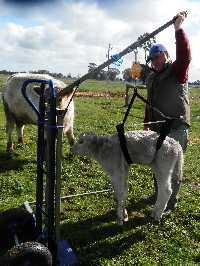 ---
June 2015
Banksia Ridge cows safely calved
Our newly purchased Banksia Ridge cows calved ahead of the rest of the herd, giving us one Zoe, one Karen and a nice little bull from Lucy - called Lucky!
---
March 2015
Visit to NZ
In March we took a trip to NZ to visit Neil & Jane Burke at Chequers Murray Greys. We particularly wanted to see Neil & Jane's ET heifers - and they were very beautiful. It was a great opportunity to take part in some Trans-Tasman cow-patting, and we were also able to visit Sue Clarke at Yorkvale Murray Greys.



Tarella K3
Neil Burke with Davo & Maisie
(White Island in the background)
Yorkvale Murray Greys
---
29/07/2015
Back on-line
We are eternally grateful to Brendan and the team at Mediart Solutions for getting our website back online. Brendan has freshened up our look and given us cast iron security. We've got a bit of work to do to get our news back up to date so watch this space as we fill in the gaps!
---
23/01/2015
Open for Beef Week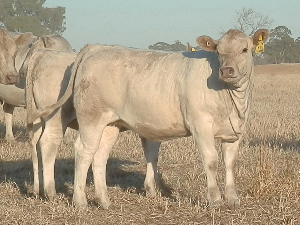 We will be open for Beef Week again this year. We always love having visitors and enjoy any opportunity to talk with like-minded souls about cows in general and Murray Greys in particular. Our visitors are able to view upcoming young bulls and the breeding that goes into them (pictured here is Delvene K4, our first heifer from Bass F226). And our cows are always keen for a pat!
---
17/01/2015

Today the new girls were allowed to mix with the rest of the herd and we have been very happy with how little pushing and shoving there was. We particularly wanted to look after Lucy X22 considering her age. For the last week, the new girls have been fed hay in a paddock adjoining the herd. They have had a chance to settle in after the journey, fill their bellies and get used to their new surroundings. Then, rather than putting the new cows in with the herd, we let the herd into their paddock and there was more interest in the fresh feed available than in bossing the newcomers.
---
07/01/2015
New girls
Our new Banksia Ridge cows have arrived. They had a long trip from South Australia but Joe Wilton did a great job and took very good care of them.