25/4/2019
BVDV testing
Maisie and Grey Lady are heading off to the Youth Camp this weekend and Grey Lady needed her BVDV test. All it takes is a simple ear notch and short 15 minute wait for the test to deliver a result. A good time to discuss our broader biosecurity plan for pestivirus. We are lucky at the home farm that we are surrounded by cropping and sheep, so there is no opportunity for nose-to-nose contact with unknown cattle. However, at the lease block there are some neighbouring cattle on one side and so we always try to keep a paddock between our cows and the neighbours. After spot testing for the last 10 years, with no evidence of the disease, we have made a decision to systematically test all our bulls and any cows that we buy in from now on. The cost and ease of the test have improved - we are already doing SireTrace anyway and for a simple tick of a box and small cost, we can get BVDV testing on the same sample for bulls. We feel this will provide a stronger health guarantee for ourselves and our clients.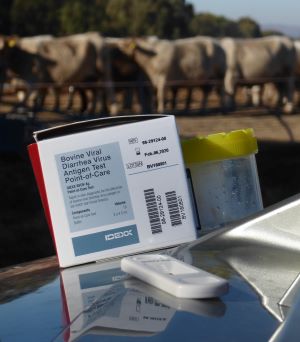 ---
21/4/2019
RAIN!!!
On Easter Sunday we had some absolutely lovely rain. And after such a long, dry period, having the dust settled and the smell of fresh rain was marvellous - it has been like a pressure release valve coming off. Even though we'll be feeding cows for weeks to come, having it rain at the time when we traditionally start to expect a break in the season was a big relief. We do need follow up rain but any rain is a good start. We will be eagerly looking for the first tinge of green in our freshly sown paddocks.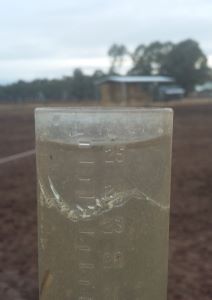 ---
14/4/2019
Sowing
Even though it has been (and still is) extremely dry, we have just sown a third of our farm area to oats. The oats will be used for grazing and/or silage or hay, depending on what the season delivers. This year we had a 9m air seeder so 30 Ha was sown in half a day. I really like sowing oats because they are hardy and flexible, and fit very well into our grazing system. We have 4 paddocks of lucerne to capture summer rainfall, but we are still predominantly a winter rainfall area so oats help get the best use out of our growing season rainfall. It feels good to be doing a normal seasonal activity when the weather has been abnormally dry for so long. There is no rain predicted at the moment but the average break around here usually comes within the 6 weeks either side of ANZAC Day, and dry sowing fits in with our contractors - the oats will be quite happy to sit there in the ground and wait for rain. Recent soil tests have shown we don't have any areas of deficiency to address so w e've sown the oats with 100 kg DAP/Ha to provide some available N & P and give the oats a good start to get up and going.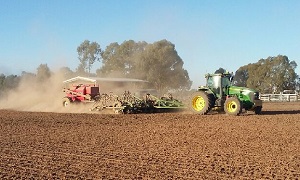 ---
24/2/2019
Weaning
Well, we thought weaning was early last year on 25th March, but needs must and the calves have been weaned. With 200 day weights recorded and 7 in 1 vaccinations as well, it was a good morning's work. It was a noticeably bigger job now that we have increased the herd size but everyone pulled their weight - Ted in the yards and Maisie recording weights with her neat handwriting - and we got it all done before the weather got too hot.
---
Heifer Challenge Success
Well done Davo - top 10 in the Beef Week Heifer Challenge!!! We have been entering every year for nearly 10 years and the aim is to present a consistent pen of 10 heifers. This year we had only 12 heifers to choose from, sired by 6 different bulls, and there were 36 studs entered across Victoria, SA and southern NSW. Davo's top 10 result is a strong endorsement of his consistent breeding values and reward for all the effort he has put into keeping his girls in good condition. So proud of you honey!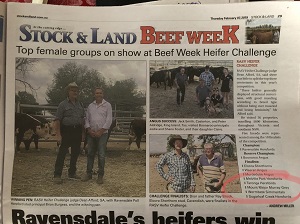 | | |
| --- | --- |
| | |
| Photo credit: Stock and Land | |
---
OPEN FOR BEEF WEEK 2019
We will be open for Beef Week again this year on day 7 which is Friday 1st February. You'll be able to see some of our females with calves at foot and our Heifer Challenge entry. I'm very happy with our even line of replacements. It's a good opportunity to get a first look at the spring bull crop while they are still with their mothers and there are some real crackers out there. There will be calves on display from Mount Major Kingswood, Lickety Split, Monaro and Manu, along with some calves by Eylwarra Sands Falcon. Davo is also planning to get out over the long weekend and look at some other herds as well. (Pictured here is Mount Major Nacho N15.)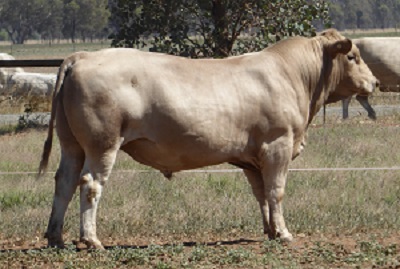 ---
22/01/2019
Destination King Island
These handsome young fellas are just about to head off to King Island - we're hoping to follow them for a weekend break later in the year.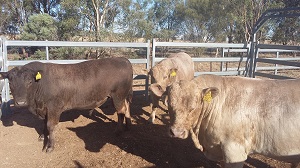 ---
6/01/2019
Lovely lucerne
60ml in the middle of December gave us a good grazing off the lucerne to provide a fairy bit of high protein feed for the cows for a month. We try and let 60-70% of the lucerne flower to allow the plants to put energy back into their root reserves, which helps them to persist. Some of our lucerne has lasted 10 years before it needs to be renovated. As the plant is more mature and has thicker stems, this also helps to manage bloat, although we always make sure cows are not going into fresh lucerne hungry and provide them with a bale of hay as well.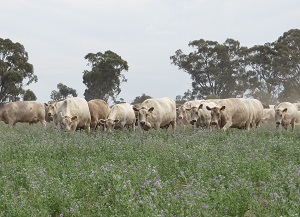 ---