December 2021
Merry Christmas
The season started late
But gee, old mate!
When it got going, the mud was a slog
You could bog a dog or a frog
Spring was a belter, even with Delta
The season's still not a-slowin' and the grain's still a-flowin'
Now Christmas is here, it's time for a stubby
And a beer with my buddies!
Merry Christmas Everyone and stay safe!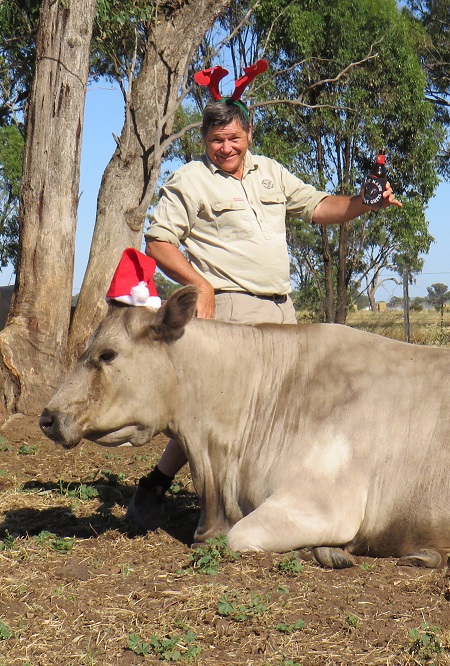 Royale
We are very pleased to have some professional photos of Mount Major Royale by Andrew Cullen. He is pictured here at 15 months and much cleaner than our own photos taken a couple of months earlier - but he still hasn't been clipped or washed so these are still paddock photos! In fact, just before we turned up he had rubbed his head in the mud so there are no photos of his right hand side. He has been collected for the domestic market and semen is available in Australia through Agri-Gene.
---
14/11/21
Wet spring
Well, it's a miserable wet day outside with sideways rain so what better time to update the news page? It's mid November and the paddocks are still green with a full moisture profile (Dookie Land Management Group have soil moisture probes in a neighbouring property so we know exactly what's going on below the surface): I wouldn't be putting the tractor on the paddock today. In all, it's been a fantastic spring and the pastures have grown exceptionally well this year. Spring rainfall over the last decade has been very unreliable and we've had a couple of poor springs in a row so to now get two good springs in a row is fantastic, although our lease block did suffer a bit with it being too wet. There have been 63 mm for November so far with another 40 mm predicted for next week. 68.5 mm in Oct, 83.5 mm for Sept and August was the driest month with 38 mm.
We've got plenty of grass and probably should be cutting hay but it's been too wet. Also we have plenty of hay on hand and to be honest we'll be able to buy better quality than we can make - we can buy last season's hay that has been shedded and hasn't been rained oon. The cows will just have to try and eat through the pasture and will probably trample a bit but it's a nice problem to have! Having this much grass may also present a bit of a fire risk but we'll make sure we have a bared out paddock for them to go into if needed.
We have cut some hay in shares with our neighbour and currently it's had some rain on it. It was almost ready for baling before this last lot of rain and just needed one more good drying day . . . At the moment the quality should still be good so hopefully we'll get it baled before the predicted rain next week.
We did sow lucern in the spring with some ideal rain the first week after sowing but we've had over 200 mm since so it's been too wet for establishment, especially in the lower parts of the paddock. Unfortunately we'll have to spray that paddock out but will take the oppportunity to improve drainage before we try again with lucerne in there.
Royale
I'm really pleased that Ted's bull, Royale, has been selected by Agri-Gene for collection and domestic distribution. Agri-Gene has quite a big market for semen which goes across dairy and a range of different beef breeds so they can reach more markets than the traditional Murray Grey breeder. It's a big deal for us to get a semen contract with a semen company. There hasn't been a lot of Murray Grey bulls collected in a while but we are confident Royale will suit their market with his low birthweight, moderate frame and really good carcass traits. Royale is a Jupiter son out of a really solid Josie cow. He clearly had the best shape out of all the bulls in the paddock as well as being very sound-footed and silver which is a bonus. He has been scored at a frame score 6. At the moment he's a young bull and we hope to get some much better photos as he matures.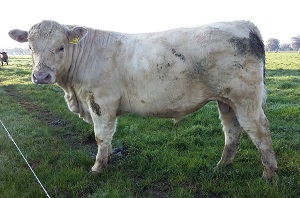 Scanning and bull sales
As usual, Liam Cardile came to scan and independently assess our cattle in September, nothwithstanding Covid restrictions and border closures. Fortunately he was included in the border bubble, and so were we, which allowed him to cross with a permit. On hand to help out for the day were Colette Suter, a Dookie Agricultural College student, who has been working for us this year; Ted who was very keen to see his bull scanned and is planning a future in agriculture; and James Bremner and his son, also in the border bubble and a valued client. Some clients have not able to visit to view bulls this year due to Covid restrictions so we have had to adapt and put together videos to try and give an all round view of the bulls. All our young bulls were sold by the end of September to repeat clients who had pre-ordered. We'd like to thank all our bull buyers and wish them the best of success with new bulls.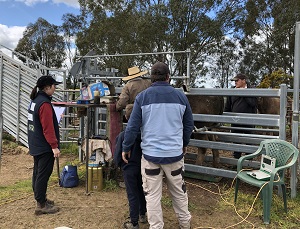 ---
6/09/21
Grazing brassica
This year I have trialled a multi-species crop which includes forage brassica, chicory, plantain and two types of clover, sown into a thinning lucerne stand. I saw some research results on multi-species pastures and was impressed that they were getting better pasture yields with less N input. The mix is also supposed to extend the growing season by having some deep-rooted plants and a mix of annuals and perennials so I was keen to give it a try at home. I have had an excellent strike of all the species in the mix, although it was late kicking off as the autumn break was 6-8 weeks late this year. But we're having a fantastic spring and I've got the cows in for the first grazing. They are loving it!
---
3/07/21
The 5 S's of pasture improvement
Back when Davo and I were both at Dookie College, David Chapman used to teach the Five S's of pasture improvement and management to the degree students: 1. S . . . rotational grazing (not quite an "S"), 2. Subdivision, 3. Stock (timing of calving, stocking rate, etc.), 4. Superphosphate (fertiliser), and 5. Seed (making sure you have the best fit of pasture species). Since we have had this property, our 30 acre bush block, has been under-utilised. It gets wet in wet years, especially the back half, and has lots of trees which are great for shade in summer but very unattractive to contractors. There's a little bit of phalaris in there that struggles along and we did broadcast some ryegrass in the early days. The only fertiliser it gets is from the cows as no-one is willing to drive in there to spread it. And because the cows are usually being fed some hay while they are in there, they congregate at the front and don't graze into the back half of the paddock very well. So I have been at Davo for a few years to split the paddock into two so we can concentrate on improving the pasture in the front half. We did this with a big 60 acre paddock a few years ago and that has made a huge difference with the heavier dirt that was previously under-grazed now being properly used.
While Shannon was here replacing the old fence at the front of the bush block, we asked him to put in a new fence to divide it in two. Now we will be able focus on cleaning up the fallen timber in the front half, spread some liquid fertiliser, and try to establish some phalaris. By managing the grazing pressure more precisely we will be better able to get better pasture utilisation in the back half and get on top of the weeds in that section. And as a bonus it will also give us more flexibility at the times of years when we have a lot of different groups of cattle around the place that we need to keep one paddock apart, like weaning and joining. I'm looking forwards to seeing the pasture improve.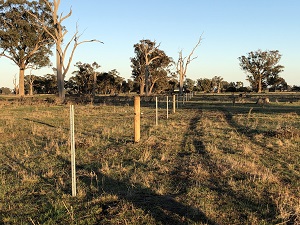 R&M June
The autumn break has been a little slow arriving this year but the drier weather in June gave us a chance to get on with some fencing. We have replaced one of the oldest fences on the property that was barely standing with a spiffy new fence. A big shout out to Shannon Pool Rural Fencing Contractor from Invergordon who did a terrific job! It has also been an opportunity to replace a pair of "pretzled" gates that suffered in the early days of Ted learning to feed the cows, and put some earth from the cleaned out dams around water troughs. It feels good to get on top of some of these jobs and have the place looking neat and tidy - and there has still been time to sit by a campfire and appreciate the sunsets.
---
29/05/21
Chook poo
It's been good to be able to get some chook poo this autumn as it's usually quite hard to get at this time of year. I find it's a really good, well-balanced fertiliser with a lot of extra nutrients, such as calcium, phosporous and potassium, and it also provides a lot of slow release nitrogen. I think it works really well with the lucerne and also our pasture paddocks. I keep the cows off the paddocks for about 6 weeks and I like to get a good rain on it before grazing, just to manage any botulism risk.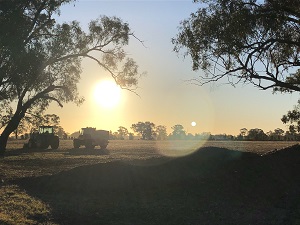 ---
22/05/21
Quixote goes to Tumbarumba
Now that Ted is able to look after the farm for us, we were both able to get away for the weekend to deliver Quixote to James Bremner in Tumbarumba and had a lovely weekend away. We got to inspect the Mount Major bulls that James has previously purchased and see how well his property is recovering from the fires - thanks to James' hard work. We're really proud of Quixote - we used him here over a few cows and have retained some semen.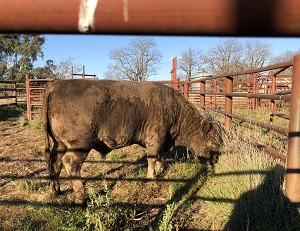 ---
19/05/21
Cool burn
The cool burn is something I have been trying to get right. The idea is to encourage trees and native grasses along the roadside. I choose a still night in late autumn/winter when there is some green grass. The idea is for the burn to creep along really slowly and I can put it out just by standing on it - needless to say I am very careful not to let it get away. It burns away dried grass and leaf litter but doesn't burn so hot that it damages the trees.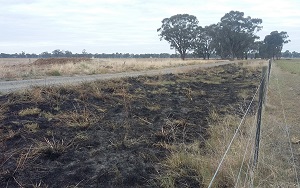 ---
19/05/21
Stumps and dam clearing
We've had a couple of stumps just below ground level that would sometimes catch the contractors' seeders. I asked Colin Willcox to bring his excavator and come out and remove them. It's one of those jobs that's not super urgent but it's good to get done. While he was here, I asked Colin to clean out a couple of dams for me. One is in a paddock and will give me emergency water supply in case the troughs are not filling for any reason, and the other is in a fenced off section of re-vegetation. We call it the cumbungi dam and there are always lots of birds around it in the mornings. By clearing it out, and putting in some timber, I hope that it's even more bird-friendly and maybe I can get a population of yabbies established. It was interested to see how much silt had built up - it was quite obvious the dams hadn't been cleaned out for a long time.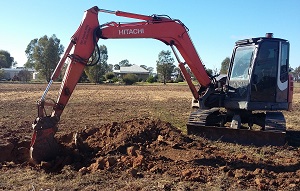 ---
4/05/21
Qualifier
We purchased Elywarra Sands Qualifier at the National Show and Sale - this year was the first fully online National Show & Sale due to Covid, conducted on Auctions Plus which was a first for us and an interesting experience - in a good way. Qualifier was the Grand Champion bull in the show and but what we really liked was his big eye muscle, his really good retail beef yield and his carcass weight which will complement our herd. He's a full outcross for us and we look forwards to using him in the spring. It's the first bull we have bought without seeing in the flesh but he travelled well and I was excited to see him and pleased to find that he has a lovely quiet temperament. Ted took delivery as we were at the Woodbourn sale in Tassie but he made sure I got a photo first thing in the morning, as soon as the bull arrived. Thanks Ted! (But this photo credit goes to Nigel.)
---
3/05/21
Trip to Tassie for the Woodbourn Sale
Davo and I made it over to Tassie for the Woodbourn sale. We had a lovely few nights in the Penny Royal motel, walked up Cataract Gorge and had so many lovely meals out. We enjoyed meeting up with Gail and Lyndon Menegon who took us to the new Western Tiers distillery and then out to dinner. Charles Wallace's sale set up was really impressive and he had a really good sale. We also got to see Mount Major Quantum who went to Woodbourn in the spring and we look forwards to seeing his calves in future sales.
---
9/04/21
This morning we waved off a group of young females on their way to a new home. They were picked up in a brand new truck and we were very impressed with the shade cloth covering which made the truck light and airy, and much more inviting for the stock to load into. It also provides wind protection and is a modification I have added to my wish list for when I can afford to invest in a new truck. One day . . .sigh.
---
28/02/21
Weights & vaccinations
We got our 200d weights done and vaccianted with 7 in 1 at the same time. I'm really pleased with the weights this year. It's been good to have a good season, and it's clear that the cows have benefited from it. I am really happy with Intensity's calves in particular which present a really even line: they all look almost identical in type and shape. Quixote - who has been retained for using in the herd before going on to his new home - weighed 800 kg at 600 days off grass, displaying amazing softness and shape. We don't often get to see our premium bull calves performance as they are usually sold as yearlings.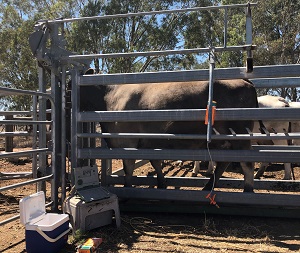 ---
6/02/21
Storm damage
We escaped damage when a storm passed through the area but the lease block copped a fair bit of damage: we lost a couple of panels on our stock yards and there was a hell of a lot of timber down which we spent the day helping to clear.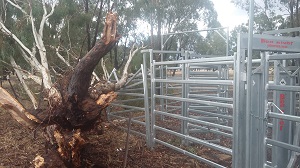 ---
27/01/21
Visit from the Country News
We had a visit from the Country News looking to promote Beef Week in the region and are very grateful to Daneka Hill for some excellent photos.