9/04/21
This morning we waved off a group of young females on their way to a new home. They were picked up in a brand new truck and we were very impressed with the shade cloth covering which made the truck light and airy, and much more inviting for the stock to load into. It also provides wind protection and is a modification I have added to my wish list for when I can afford to invest in a new truck. One day . . .sigh.
---
28/02/21
Weights & vaccinations
We got our 200d weights done and vaccianted with 7 in 1 at the same time. I'm really pleased with the weights this year. It's been good to have a good season, and it's clear that the cows have benefited from it. I am really happy with Intensity's calves in particular which present a really even line: they all look almost identical in type and shape. Quixote - who has been retained for using in the herd before going on to his new home - weighed 800 kg at 600 days off grass, displaying amazing softness and shape. We don't often get to see our premium bull calves performance as they are usually sold as yearlings.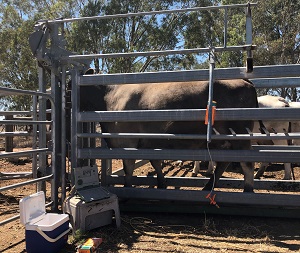 ---
27/01/21
Visit from the Country News
We had a visit from the Country News looking to promote Beef Week in the region and are very grateful to Daneka Hill for some excellent photos.