---
12/06/22 - Seedlings
Seeding was a lot later than normal this year due to having to wait for contractors. But a couple of days after sowing we had some rain which has allowed good germination. Ted's Mix is up and I was very happy to see the number of clover seedlings. In NS1&2 we are trying something new. We have sown vetch which will allow us to clean up some barley grass that has stated to creep into the paddock and hopefully it will allow us to make some top quality hay for summer when things dry off. There are also plans for a new hayshed – watch this space!
---
May
Back Bush dam
The dam in the Back Bush paddock has been silted up for a long long time - our neighbours used to call it a puddle. So we've cleaned it out and put some timber in there are a coral where we will establish some combungi. This will be good for wildlife and should help to keep the water clean. It's nice and deep now, and we are looking forwards to seeing what wildlife it attracts. The turtles have already made themselves at home around the timber and a pair of shelducks have moved over from the neighbouring farm.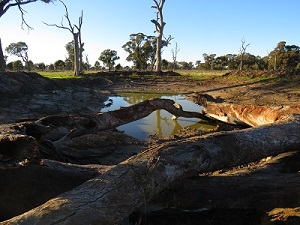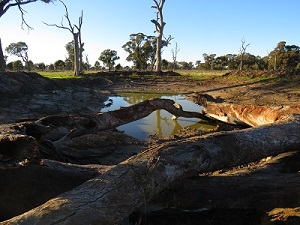 Sowing
Our neighbour Chas Dickins came over to sow the Front Bush paddock for us. This paddock has now been brought into the 21st century with subdivision, good seed, fertiliser and, from now on, better grazing management.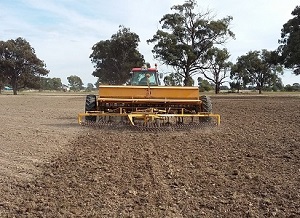 Ted's mix
Ted worked at SeedForce over the busy period, mixing and bagging seed during his gap year. So this year we sourced our seed from SeedForce and Ted helped to design the mix for the Front Bush. It's Phalaris, cocksfoot and clover, and Ted picked out the appropriate seed treatments. That paddock is subject to inundation and has heavier soil type and should be very well suited to Phalaris which is more tolerant of waterlogging than other species and Dave has been keen to get more clover established to improve nitrogen in the paddock. It won't be grazed until after the Phalaris seeds this year to allow it to establish.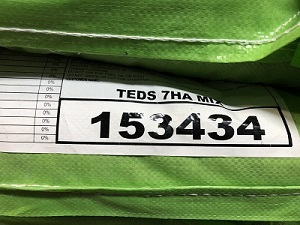 Paddock renovation
We got some paddocks levelled that were getting waterlogged where they held onto water and while the laser unit was here, we took the oppprtunity to get the Front Bush paddock levelled. We are doing a bit of renovation work on this paddock to get it into full production and gain another 15 ac of productive pasture. Where the stumps had been removed, there were whoops and hollows, the ground has been extremely rough and with a bit of rainfall the paddock ended up being a series of puddles. The laser unit just gave it a rip and a smudge so that it just levelled it out to improve drainage. The paddock will also now be much more trafficable and productive.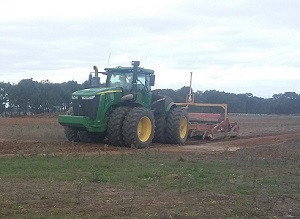 ---
April - flushing
Davo has decided to flush a couple of our elite cows, Delvene N8 and Lucy 24. Both have outstanding structure and conformation along with elite EBVs. Delvene N8 is also the dam of Quantum who joined the bull team at Woodbourn last year. The aim is to lift the bottom end of the herd and produce more elite bulls. We've had an order to supply embryos to Mexico but also I'd like to keep some embryos in the tank as a biosecurity insurance policy.
| | |
| --- | --- |
| Delvene N8 | Lucy R24 |
---
March
Preg testing
Usually we don't get around to preg testing until later as we get good conception rates and we really just need to identify empties to cull. So June is the usual time, and then the vets do rectal palpation to give us a rough estimate of foetal age, allowing us to pick out culls and plan calving groups. But this year we did an earlier preg test than normal to try and get some more accuracy with calving dates. Plus, this way it is easier on the vet and the cows (using only the wand, no rectal palpation), and more accurate. Davo was pretty excited about the technology, as it's the first time he's used it, and enjoyed seeing the calves on the screen and got excited about which ones might be bulls and which ones heifers. Thanks to GV Vets for a very professional job!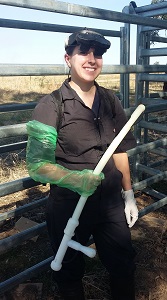 Stump removal
Davo has had all of the stumps removed on the property that have been cut off below bonnet height on the ute so safer to drive around and for machinery to navigate. Still got a lot of dead trees to drive around but it's the ones that have been cut off at awkward heights that damage machinery. This was part of bring the front bush into proper production.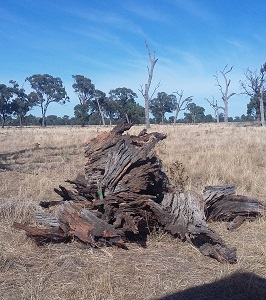 ---
February
21/02/2022 - Rod & Helena Hoare's visit
We were delighted to welcome Rod & Helena from Cadfor Murray Greys over the weekend. It was a great opportunity to talk all things cows and lovely to see them again.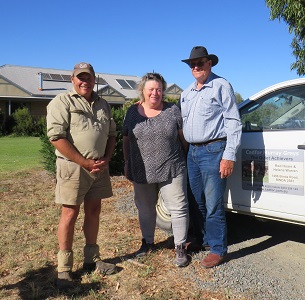 ---
January
We were open for Beef Week again this year. It was good to see some new faces and some familiar ones. We had a steady stream of visitors throughout the day. Ted helped hosting - one of his first farm duties as he starts his gap year - and enjoyed showing off his bull Royale who has been collected by AgriGene.
I (Sarah) broke my wrist in mid-January, falling off my horse, which made life a bit harder for a while but turned out to be a good way to get the easy job at weighing and vaccinating time. Dave was pleased that the best bulls were gaining 1.6 kg/day.